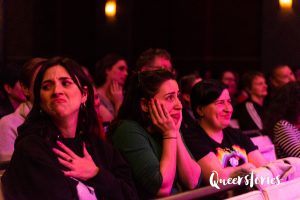 Thanks to funding support from the City of Sydney, I am able to commission 16 new stories for the
Queerstories podcast
, from LGBTQI+ storytellers around the country. Normally the podcast is populated with live recordings from events I curate, but with the theatres closed, I am looking for new writing from LGBTQI+ storytellers, work that offers a queer perspective on the events of 2020. NB: I am looking for stories by people living in Australia, or Australians living overseas. Before submitting, I recommend reading this post I wrote:
How To Write A Bloody Good Queerstories Pitch
. It has notes about what sort of stories I program, and a listening list of my favourite podcast episodes and why they are so wonderful, including
Bobuq Sayed,
Jen Cloher, Steven Lindsay Ross, Emma Valente, Steven Oliver, Teddy Dunn, Cadance Bell, Alison Whittaker, David Abello, Nic Holas
and
Claire Coleman.
Those who are interested in sharing a story can
complete this form,
which also includes information about the sort of work I am looking for. Storytellers do not need to be professional writers.
Submissions are due June 26th 2020. Stories will be due by the end of July.
Stories are to be 15 minutes long, approx. 2000 words. Storytellers will be paid $400.
This project is made possible with funding from the City of Sydney, and support from my donors on crowdfunding platform
Patreon
.