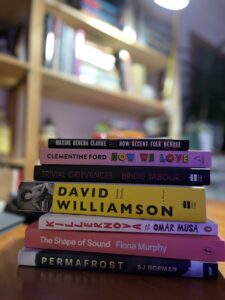 Moderating discussions is one of my favourite gigs, combining both my reflective analytical brain, and the adrenaline of live performance. I'm stoked to be hosting four sessions at this year's Sydney Writers Festival, three of which you can come along to (one is for the Student Sessions programmed by the fabulous Amelia Lush).
Hear from two of the nation's most thought-stirring writers, Clementine Ford and Bridie Jabour, as they discuss their latest books exploring the meaning of life and love today. Clementine's tender and moving memoir How We Love traverses the throes of romance, the grief of losing a parent, the journey into motherhood and the value of self-worth. Bridie's Trivial Grievances is a funny and forthright enquiry into the anxieties of millennials finding their way at work, home and beyond during uniquely challenging circumstances.
Language changes when read aloud; previously unheard rhythms, timbres and tones come alive off the page. How do novelists approach writing a play, poets consider both spoken-word and print, or playwrights pivot to memoir? In an event curated by writer and performer Maeve Marsden, she sits down with Bornean-Australian rapper, poet and author Omar Musa (Killernova), iconic playwright David Williamson (Home Truths) and award-winning writer and poet Maxine Beneba Clarke (How Decent Folk Behave) to discuss how they write for performance, what it feels like to hear and see your words in motion, and the challenges of adapting between different mediums.
Vulnerable and fierce, heartbreaking and hilarious, Queerstories invites five LGBTQI+ writers to share a little piece of themselves; the tale they want to tell but are never asked to. Hosted by Maeve Marsden, with Hannah Kent (Devotion), Jazz Money (how to make a basket), Fiona Murphy (The Shape of Sound), SJ Norman (Permafrost) and Jioji Ravulo, Queerstories celebrates the culture and creativity of the queer community, one true story at a time.
This event is Auslan interpreted.
You can also listen to the podcasts of past sessions I've hosted…
Reckoning & Retribution
Lucia Osborne-Crowley's I Choose Elena and Ellena Savage's Blueberries interrogate what it means to make one's way through the world as a woman, within its structures of power and oppression. Lucia's powerful memoir explores how trauma affects the body, bringing to our attention its cyclical, intergenerational nature. Ellena's blend of personal essay, polemic, prose poetry, true-crime journalism and confession considers class and capitalism versus art and freedom. These two exciting young Australian authors discuss their work with Maeve Marsden.
Sarah Dingle & Kaya Wilson
Sarah Dingle and Kaya Wilson's memoirs explore the discovery of long-held family secrets and their resounding intergenerational effects. When Kaya came out to his parents as transgender, a year after a near-death surfing accident, he was met with a startling family history of concealed queerness. Sarah was 27 when she found out she had been conceived via a sperm donor, but when she began digging she only discovered destroyed records and dead ends. With Maeve Marsden, Sarah (Brave New Humans) and Kaya (As Beautiful As Any Other) discuss Australia's troubling treatment of donor-conceived and transgender children and adults.
Please note, this episode contains references to sexual assault and suicide.