I started out this year with a quite ambitious to-do list, and whilst I am getting through it (fueled by a characteristic combo of ambition and anxiety), I am also bloody exhausted. It is September, everyone. Just in case you thought your phone calendar carked it with the latest update, I can confirm with certainty – It. Is. September.
You may think it is reasonable to take a break after the book launch (my therapist definitely recommends it), but I would argue it's actually the perfect time to launch a new event (this may be why I don't sleep at night).

Like a glittery jittery queer on the eve of their first Mardi Gras, I am excited as all hell to introduce Homage – a queer musical tribute. Because what's gayer than queer artists covering their favourite queer musicians? It's like a big gay musical turducken.
Homage is basically a musical spin off of Queerstories. I've booked Brendan Maclean, Jordan Raskopoulos, Marcus Whale, Benhur Helwend and Sports Bra to perform, I'll sing a few tunes and we've got the Lady Sings it Better band to back us up. We will be bringing the house down at the Factory Theatre on October 24. Apart from the sweet, sweet variety of tunes, we'll also be sharing why the artists we choose to cover have inspired us and helped shape our identity and sense of community (cue laughter and/or tears).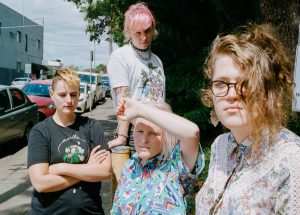 Tickets are selling quick sticks, which is a relief because The Factory is huge – if you sign up to my Patreon you get discounted tickets to events like Homage, and if you pledge USD$40 or more per month I give you a sneaky double pass to use at any shows I produce throughout the year (with monthly shows happening you're basically making money!).
So please, reward my endless sleepless nights by continuing to support the fantastic beast that is Queerstories, and now Homage.