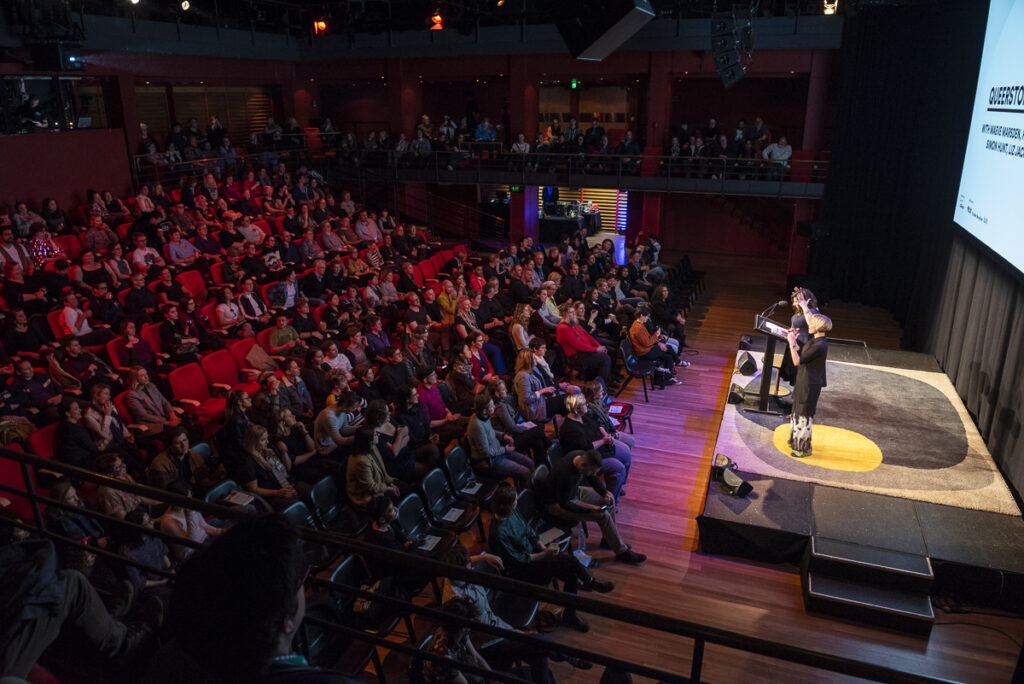 Here is the biography I wrote about myself as if someone else were writing about me:
Maeve Marsden is a writer, performer, producer and director who works across both main stage and fringe / independent venues and festivals. In 2020, she was a member of 
Belvoir Theatre's Philip Parsons Early-Career Playwrights Lab
, the play she wrote for that fellowship,
Blessed Union
, going on to be programmed in their 2023 season. In 2022 she directed the Australian premiere of
Lizzie the Musical
for Hayes Theatre Co as part of their Artist-Led Initiative, for which she was nominated Best Director of A Musical at the Sydney Theatre Awards.
Maeve directs
Queerstories
, a national storytelling project with an award-winning 
podcast
that has brought nearly 400 writers to the stage at sold out events around the country, with a
collection of stories Maeve edited
, published by Hachette and launched at the Sydney Opera House in 2018. She is currently the Creative Producer of Varuna: The National Writers House, and she is working on writing a new musical with Victoria Falconer and Rebecca Shaw, with support from the City of Sydney and Hayes Theatre Co.
Mother's Ruin: A Cabaret about Gin
, a theatrical cabaret Maeve co-created toured consistently for four years, with three sold out UK tours and critically acclaimed seasons at Sydney Festival, Sydney Opera House, Darwin Festival, Brisbane Festival, Adelaide Cabaret Festival, Melbourne Cabaret Festival and Edinburgh Festival Fringe, as well as regional venues in Australia and New Zealand. 
Mother's Ruin
 was named one of Time Out's Best 10 Shows on Sydney Stages 2017, and was nominated Best Cabaret in the Perth Fringe World Awards, BroadwayWorld Awards and Sydney Theatre Awards, and Best Writing, Green Room Awards. The follow up production for the creative team, 
Fat Musicals: A Body of Work
, premiered in 2019 at Darlinghurst Theatre Company and the Adelaide Cabaret Festival. The production was booked to tour extensively in 2020, but seasons were cancelled due to the pandemic. Winner Best Cabaret, Sydney Fringe 2016, 
Lady Sings it Better,
 a feminist comedy cabaret act Maeve directs and performs in has been touring to critical acclaim for 8 years, with seasons at Sydney Comedy Festival, Melbourne International Comedy Festival, Adelaide Fringe Festival, Festival of Voices (Tasmania) and the Edinburgh Festival Fringe, among others. A well-respected cultural commentator, Maeve has hosted events for Sydney Writer's Festival, Melbourne Writers Festival, Wollongong Writers Festival, Byron Writers Festival, Antidote Festival at the Sydney Opera House, Mudgee Readers' Festival, Newcastle Writer's Festival, Adelaide Writer's Week, Sydney Mardi Gras and Ubud Writer's Festival in Bali. In 2019 and 2020, Maeve curated
Queer Thinking
, Sydney Mardi Gras' two-day talks and ideas festival. She is regularly called upon to contribute to LGBTQI+ creative projects, editing the ABC's Sydney Mardi Gras 40th Anniversary Magazine in 2018 and narrating ABC radio documentary 
The Making of Mardi Gras
 for The History Listen that same year. As an opinion writer, essayist and critic, her work has appeared in the Sydney Morning Herald, Guardian Australia, Overland, Junkee, ABC, SBS, ArtsHub, Daily Review, Archer Magazine and Audrey Journal. In 2019, Maeve collaborated with Google's Creative Labs to create 
My Mother's Kitchen,
an interactive podcast and storytelling experiment that features
Queerstories
 storytellers. The project launched at Sheffield Documentary Festival in the UK. Maeve likes dancing, cheese, and TV melodramas with good ethics and bad dialogue. She currently works part time as a producer for
Arts on Tour
.