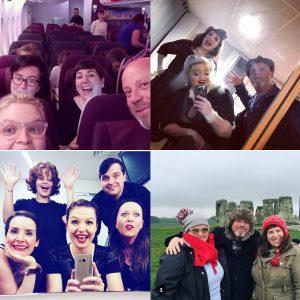 Well, we're 10 shows into our 20 show UK tour, and what a delight it's been so far!
First stop was Bath where we had a 6 night run as part of Bath Comedy Festival. The town was clearly made for a cabaret about gin because we'd be there less than 24 hours when we accidentally stumbled upon Bath Botanics, a 2 minute walk from our venue, Widcombe Social Club. Then we celebrated the end of our run with a few cocktails at Canary Gin Bar, the home of Bath gin. A first for us, we were excited to learn during tech that our time at the Comedy Festival was being sponsored by Love Honey, the self proclaimed "Sexual Happiness People". We've dabbled in gin sponsorship before, but this is the first time our festival goodie bags have had chocolate body paint in them! Big thanks to Nick, Colin, Dan & everyone on the Comedy Fest team for all of your hard work each evening.
This week, we started in Bridgwater at The McMillan Theatre, being sure to take in the sights on the way. First we stopped off at the Dundas Aqueduct, before heading to The Freshford Inn for lunch. In the afternoon we wound our way through Cheddar Gorge (cheese!) before stopping in Glastonbury to admire the Ruins and The Tor, stopping to have a
sing in the echo chamber
that is the old kitchen on our tour of the Ruins.
Next, after stopping in Stonehenge, we were off to Bordon to perform for a sold out crowd at The Phoenix Arts Centre, a re-appropriated old Army school from Bordon's days gone by as an Army town. Before we settled in to tech we took ourselves to The Chocolate Frog Tea Rooms for a very English lunch of jacket potatoes and mini high tea. Oh and we bought a bottle of Silent Pool, another gin for us to "research".
Another hour down the road saw us in Worthing, which gave us an incredible first of performing in a Pavilion at the end of the Worthing Pier. It was truly our pleasure to perform in such a beautiful building with such a fabulous team.
We also got a gift from Brighton Gin, which led us not only to do a little rearranging to get them into "I've Drunk Every Gin" (sorry, other gin we took out who shall not be named), but also led us to a discovery of
just how much Libby can fit in her bras
.
Meanwhile, back home, Fi, Anna and Annie represented Lady Sings it Better at Sydney Town Hall, smashing out a couple of numbers and most importantly taking adorable photos for
instagram
, for the Seniors Festival Comedy Show. And Sally Rugg MCed another sold out Queerstories at Giant Dwarf, with reports of a standing ovation for the final performer (and staunch supporter of our work), Emily Wilkinson.
And so, to London! We're performing at The Other Palace Tuesday 17th – Saturday 21st April and we'd love full houses, so if you have friends in London please send them along to the show!
Details here
.
As always, thank you for your support.