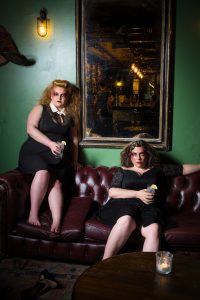 Last year we did a photoshoot at The Barbershop in Sydney to create the promotional images for Mother's Ruin: A Cabaret about Gin. We were stoked with the results and the photos have been used to promote Mother's Ruin around the country, where we've had countless sell out shows.
The photographer, Patrick Boland, submitted one of the images to the National Portrait Photography Prize, naming it The Gin Soaked Effervescence of Libby and Maeve, and it was a finalist. It's currently hanging in the National Gallery and you can vote for the image in the People's Choice Award.
We were featured in The Weekend Australian and the Sydney Morning Herald and were on the cover of Canberra Times Arts section. All this for a photo we were taking to promote a show. It just goes to show how amazing Patrick Boland is at his job.
After touring Mother's Ruin to Perth, Geraldton, Bunbury, Adelaide, Hobart and Wollongong earlier this year, we're in the process of lining up further dates in Melbourne and Sydney, and we're headed to the UK in July. Follow us on Facebook for announcements.